Garlic - 500 MG - 100 CP by Progressive Laboratories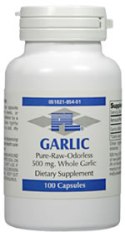 SKU: PRO510
MPN: 854
UPC: 3-51821-00854-7
Garlic information Garlic PDF
Garlic 100 capsules - Progressive labs.
Pure deodorized whole garlic. Only the moisture has been removed. We recommend this as the most effective garlic supplement. 500 mg. is equal to 1250 mg. of raw garlic before the moisture is removed. It contains all of the allicin, amino acids, selenium, germanium and other natural ingredients normally available from raw garlic, without garlic's after odor. Each capsule contains:
Garlic (Allium sativum) (cloves) 500 mg. Other ingredients: gelatin, magnesium stearate.
Whole Garlic has been show to improve cardiovascular health in several ways:
In laboratory tests the majority of subjects taking garlic supplements showed an initial rise in blood lipid levels before a decrease was seen. This suggests mobilization of lipids from tissue deposits to extracellular fluids.
Liver levels of cholesterol and triglycerides in rats given garlic extract decreased while blood levels increased.
Garlic is rich in selenium, a trace mineral essential for maintaining the natural pacemaker system of the heart.
Garlic effectively lowers blood pressure by increasing monoamine oxidase enzymes of the adrenal gland. Blood clots are composed primarily of fibrin and platelets. Recent studies have shown ajoene, a compound found in garlic, to be responsible for its ability to effectively reduce platelet aggregation. Garlic has also been found to reduce fibrin formation and to enhance fibrin degradation.
Supplement Facts
Serving Size: 1 capsule
Servings Per Container:
Amount Per Serving
% Daily Value
Garlic (bulb)
500 mg
*
*Daily Value Not Established
Other Ingredients: gelatin, vegetable stearate.
Garlic is an all-around substance that nutritionally supports overall health and well-being.