Mega N-R-G Thirty - 120 TB by Progressive Laboratories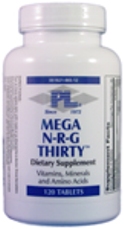 SKU: PRO720
MPN: 865
UPC: 3-51821-00865-3
Mega N-R-G Thirty - 120 TB - Progressive labs.
Hypoallergenic Mega N-R-G Thirty provides high potency, balanced blend of essential nutrients.
Comprehensive, general purpose multiple vitamin and mineral supplement that combines balanced potencies of essential nutrients to provide a strong foundation for any nutritional support program or as a maintenance supplement to a healthy diet.
Four tablets (two in the morning and two in the evening) supply:

Vitamin A
(50% as beta carotene) 15,000 I.U.
Vitamin C 600 mg.
Vitamin D-3 100 I.U.
Vitamin E 200 I.U.
Thiamin (vitamin B-1) 25 mg.
Riboflavin (vitamin B-2) 15 mg.
Niacin (vitamin B-3) 50 mg.
Niacinamide (vitamin B-3) 100 mg.
Vitamin B-6 25 mg. 1250%
Folate (folic acid) 400 mcg.
Vitamin B-12 100 mcg.
Biotin 300 mcg.
Pantothenic Acid (as calcium pantothenate) 250 mg.
Calcium (as aspartate) 120 mg.
Iodine (from Kelp) 150 mcg.
Magnesium (as aspartate) 120 mg.
Zinc (as gluconate) 15 mg.
Selenium (as aspartate) 200 mcg.
Manganese (as aspartate) 2 mg.
Chromium (as aspartate) 200 mcg.
Potassium (as aspartate) 9.9 mg.
Choline 100 mg.
Inositol 100 mg.
Bioflavonoids 300 mg.
PABA 100 mg.
L-Methionine 75 mg.
L-Lysine 75 mg.

Other ingredients: dicalcium phosphate, microcrystalline cellulose, sodium croscarmellose, magnesium stearate.