Paradex Herbal Formula - 90 CP by Progressive Laboratories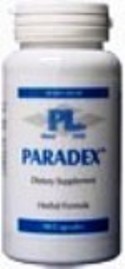 SKU: PRO810
MPN: 433
UPC: 3-51821-00433-4
Paradex Herbal Formula information Paradex Herbal Formula PDF
Paradex Herbal Formula - 90 CP by Progressive labs.
Paradex Herbal Formula (Worms Parasites) - While intestinal parasitic worms are relatively easy to detect, many parasitic protozoa that dwell in the intestinal lumen are not readily detected by stool examination. Protozoa such as Entamoeba histolytica, Giardia lamblia and others may go undetected and symptoms caused by these parasites are often misdiagnosed.
These may be spread directly from person to person or indirectly through food or water. Giardia has been reported to be present in 10 to 28% of the lakes, rivers and creeks tested in North America and in 3.4% of the U.S. drinking water samples receiving conventional treatment.
Supplement Facts
Serving Size: 1 capsule
Servings Per Container:
Amount Per Serving
% Daily Value
Black Walnut Husks
250mg
*
Sweet Wormwood (herbs and leaves)
100mg
*
Pau D' Arco (inner bark)
100mg
*
Odorless Garlic (bulb)
50mg
*
Pumpkin Seed
50mg
*
*Daily Value Not Established
Other Ingredients: gelatin, vegetable magnesium stearate.
Herbal formula designed to support the elimination of intestinal parasites.