Pure Pancreatin - 30 CP by Pharmax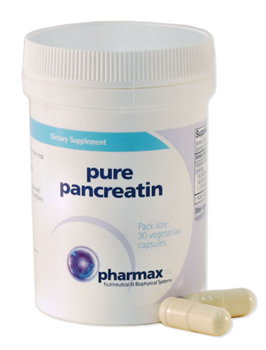 Pure Pancreatin by Pharmax has 700mg of vegetable pancreatin per capsule.
Each capsule contains 11,200 lipase USP units.
Suggested dosage: 1 to 2 capsules every time one of the essential oils from Pharmax is used.
Supplement Facts
Serving Size: 1 capsule
Servings Per Container: 30
Amount Per Serving
% Daily Value
Vegetable pancreatin providing: 140,000 protease USP units 140,000 amylase USP units 11,200 lipase USP units
700mg
+
*Daily Value Not Established
Other Ingredients: Cellulose, vegetable magnesium stearate.