Greens Plus - 360 CP by Orange Peel Enterprises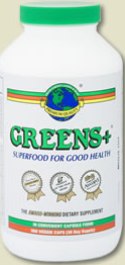 List Price:
$49.95
Sale Price:
$45.20
You Save:
()
Save even more with Volume Discounting:
| | | | | |
| --- | --- | --- | --- | --- |
| Qty | 1 - 2 | 3 - 5 | 6 - 11 | 12+ |
| Price | $45.20 | $44.25 | $43.68 | $43.11 |

GREENS Plus® 4.7oz. Powder by Orange Peel
2 week supply of 3 tsp. daily. Mix in fruit juice or Ultra Pure water.
The human body is a complex network of millions and millions of cells. In every cell, thousands of chemical reactions are continually taking place. These reactions depend upon a diet rich in vitamins, minerals, and enzymes.
When properly supplied, these cells produce lots of energy and give the body and abundance of vitality, endurance and strength. The modern American diet however, high in fat, cholesterol and sugar, actually depletes the body of essential nutrients. Superfood's like those found in GREENS Plus® help to support the body's cells for optimum energy, superior well being and peak performance.
GREENS+® Nutritional Facts
Proprietary Superfood and Herbal Blend Per Serving (8900mg)
NON-GMO1 Soy Lecithin
2,239mg
Organic Hawaiian Spirulina Pacifica
1,356mg
Organic High Pectin Apple Fiber
1,350mg
Barley Grass Powder
650mg
Wheat Grass Powder
350mg
Japanese Chlorella
350mg
Organic Soy Sprouts
350mg
Brown Rice Bran
350mg
Sprouted Barley Malt
350mg
Alfalfa Grass Powder
300mg
Seven Dairy-Free Probiotic Cultures containing:
L. Acidophilus ATCC 4356, L. Casei, L. Plantarum, L. Rhamnosus, Bifidobacterium Bifidum And Longum,Fructo-Oligosaccharides
200mg
Royal Jelly
150mg
Montana Mountain Region Bee Pollen
150mg
Acerola Berry Juice Powder (Malpighia glabra)
115mg
Natural Vitamin E (d-alpha-tocopherol-succinate)
118iu2
Licorice Root Powder (Glycyrrhiza glabra)
60mg
Red Beet Juice Powder
50mg
Dunaliella Salina Algae
40mg
Organic Nova Scotia Dulse (Palmeria plamata)
20mg
Standardized Herbal Extracts Per Serving (8900mg)

Milk Thistle Seed (Silybum marianium)
60mg
Echinacea Root (Echinacea angustifolia)
60mg
Siberian Eleuthero Root (Eleutherococcus senticosus)
60mg
Astragalus Root (Astragalus membranaceus)
60mg
Licorice Root (Glycyrrhiza glabra)
60mg
Unique Botanical Extracts Per Serving (8900mg)

Organic Ginkgo Biloba Leaf
20mg
Organic Japanese Green Tea Leaf (Camellia sinesis)
20mg
Full Spectrum Grape Skin and Seed(Vitis vinifera)
20mg
Organic Swedish Bilberry (Vaccinum mytillus)
10mg
Non-GMO signifies the absence of genetically modified organisms. GMOs are plant species that have been genetically altered and may pose a serious hazard to health and well-being.
390% Daily value of Vitamin E based on a 2,000 calorie diet.
Certificate of Nutritional Analysis
Per Serving (8900mg) 3 tsp. Powder or 12 Capsules

| | |
| --- | --- |
| Calories | 35 |
| Total Fat | 1g |
| Cholesterol | 0mg |
| Carbohydrate | 4g |
| Sugars | < 1g |
| Vitamin A | 8900iu |
| Vitamin B1 (thiamin) | 0.60mg |
| Vitamin B6 (pyridoxine) | 0.30mg |
| Biotin | 0.003mg |
| Folic Acid | 0.03mg |
| PABA | 0.70mg |
| Vitamin C (organic) | 55mg |
| Vitamin E | 120iu |
| Boron | 0.50mg |
| Copper | 0.08mg |
| Iodine | 31mcg |
| Magnesium | 40mg |
| Phosphorus | 95mg |
| Selenium | 15mcg |

| | |
| --- | --- |
| Calories from Fat | 10 |
| Saturated Fat | 0g |
| Sodium (organic) | 45mg |
| Dietary Fiber | 2g |
| Protein | 2g |
| Vitamin A as Beta Carotene | 100% |
| Vitamin B2 (riboflavin) | 0.20mg |
| Vitamin B12 (cobalamin) | 14mcg |
| Choline | 125mg |
| Niacin | 0.70mg |
| Pantothenic Acid | 1mg |
| Vitamin D | 150iu |
| Vitamin K | 29mcg |
| Calcium | 60mg |
| Chlorophyll | 12mg |
| Iron | 4mg |
| Manganese | 0.2mg |
| Potassium | 140mg |
| Zinc | 0.3mg |
CHLORELLA
"Broken cell wall"; removes mercury, cadmium, PCB's; 20 times the chlorophyll of alfalfa; high content of RNA/DNA; rich source of iron and zinc; Green freshwater microalgae
ORGANICALLY & HYDROPONICALLY GROWN SOY SPROUTS
1-2 day sprouted organic soy that is hypoallergenic; Source of many antioxidants; prime source of phytochemicals containing the important isoflavone, genestein
ACEROLA BERRY JUICE POWDER
15% natural vitamin C. The acerola berry is the most potent source of natural Vitamin C. We spray dry them to obtain high Vitamin C and bioflavonoid powder helps Quercetin absorption; balances pH in colon
ULTRA LECITHIN
Essential to the function of every cell; emulsifies cholesterol; vital to healthy hair and skin; helps with absorption of fat-soluble Vitamins A, D, E, and K; 99% oil free; 97% phosphatides; natural choline
DUNALIELLA SALINA
Sea algae grown in the clear South Pacific waters; rich source of beta-carotene; 7.5% alpha-carotene; Cis and Trans carotenoids
MILK THISTLE EXTRACT (Silybum Marianum)
85.6% Silymarin, an anti-oxidant that has a beneficial effect on liver function; strengthens liver and stimulates new cell growth; liver detoxifier and antioxidant; protects the liver from poisons and pollutants
HAWAIIAN SPIRULINA
Abundant rhamnose glycoside content that gives sustained energy; potent source of Beta Carotene; richest food source of vegetarian B-12; high in GLA and essential fatty acids Grown on the pristine Kona Coast of Hawaii; superior source of highly absorbable organic iron; 65% easily digested, biologically complete protein The most nutrient-rich of all blue-green algae
ASTRAGALUS MEMBRANACEUS
The most potent immune system enhancing herb known; increases phagocytosis, interferon production, and the number of macrophages; enhances T-cell formation; functions as an adaptogen to relieve stress-induced immune system suppression
ECHINACEA ANGUSTIFOLIA EXTRACT
This natural antibiotic is used by millions around the world to prevent bacterial illness, it stimulates immune function and helps detoxify and pull waste residues out of the lymph glands. This form can be used daily.
ORGANICALLY GROWN ALFALFA, BARLEY, WHEAT GRASS AND RED BEET JUICE POWDER
Organic powders are rich in natural Vitamin C, beta-carotene, potassium, magnesium, and calcium; contain great amounts of chlorophyll and the enzyme Super Oxide Dismutase (SOD); provides stamina, anti-stress; greater percentage of protein than eggs; adds alkalinity to the body; red beets detoxify liver
ROYAL JELLY 5% 10-HDA MONTANA BEE POLLEN
Royal Jelly and bee pollen are loaded with antioxidant vitamins. The high concentration of pantothenic acid is thought to contribute to the longevity of the queen bee who far outlives all the other bees in the hive. Montana bee pollen contains high amounts of SOD and is an additional source of vitamins, minerals, enzymes and co-enzymes. A multi floral, cold processed potent pollen from Montana Nature's most perfect food.
NATURAL VITAMIN E
D-alpha tocopheryl succinate, the most expensive form. Dry powder with no oils Antioxidant that protects cholesterol and lipids from oxidation
6 DAIRY-FREE PROBIOTIC CULTURES
Grown on brown rice; contains 2.5 billion symbiotic dairy-free "friendly bacteria" per serving which help digest foods as well as help make B vitamins and absorb minerals. Promotes intestinal hygiene In FOS (fructo-oligosaccharides) a high molecular weight food to promote "friendly bacteria" growth; not centrifuged; antiviral, antibacterial
NOVA SCOTIA DULSE
Certified organically grown; purple-red sea vegetable; iron, iodine, boron etc.; sea-Source micronutrients
4 COLON CLEANERS
High pectin apple fiber helps maintain intestinal balance, cleansing the intestinal tract with 17.2% soluble and insoluble fibers.
Brown rice germ and bran join with pectin and chlorophyll to cleanse, detoxify, and deodorize the intestine.
Sprouted barley malt soothes the intestines and gives moisture to stool.
Natural chlorophyll.
EUROPEAN BILBERRY EXTRACT
Another source of proanthocyanidins is the European Bilberry. Bilberry flavonoid extract has been shown to have impressive effects on capillary fragility, Improves capillary strength; assists night vision; assists peripheral circulation
GREEN TEA EXTRACT
Could be the single most important herb you take! 60% pure polyphenols; assists digestion and "friendly bacteria" in the intestines; helps reduce and control plaque causing bacteria in the mouth; helps balance blood sugar levels; balances pH in colon
LICORICE ROOT EXTRACT
Antiviral, antibiotic activity; sustains adrenal functions; mherbal transporter
SIBERIAN ELEUTHERO ROOT EXTRACT
One of the most potent adaptogenic herbs. Has been shown to be anti-fatigue and anti-stress adaptogenic herb. Contains germanium which is immune enhancing and oxygen enriching. Helps the body ward off stress and balances the body's energy.
PHARMACEUTICAL GRADE GINKGO BILOBA 24% EXTRACT
Improves and protects vascular health and enhances mental function; powerful antioxidant Improves delivery of oxygen to brain tissues 10% of active ingredient is Quercetin, a bioflavonoid
Highlights
Provides food source vitamins and minerals, in their biologically complex form, as nature intends them to be.
Supplies high concentrations of the very building blocks of life RNA, DNA and Amino Acids absolutely essential for the health of all 32 trillion cells in the human body.
Delivers sea-source micro-nutrients such as boron, titanium, lithium, rubidium and iodine found in rich sea vegetation virtually depleted from the earth s soil.
Contains a rainbow of bio-active enzymes such as chlorophyll (green), phycocyanin (blue) xanthophylls (yellow), violaxanthin (purple) and the complete carotene complex-focal points of exciting nutritional research.
Metabolizes and transports body fat and cholesterol with the emulsifying di-polar molecules found in ultra Soy Lecithin.
Neutralizes harmful acids produced in the digestion of animal tissue and processed foods. Disease thrives in an acidic internal environment called acidosis. GREENS+® is a rich alkaline-forming food that restores a healthy pH balance to the human body.
Strengthens the Immune System with the herbal support of Echinacea Angustifolia, Milk Thistle and Astragalus Membranaceus.
Enhances mental acuity with Ginkgo Biloba extract, a potent neural tonic that improves circulation to the brain tissue, and works with choline (found in lecithin) to increase nerve impulses linked to memory. The human brain has a dry composition of 30% lecithin.
Reduces stress and accelerates homeostasis with standardized herbal extracts of Siberian Ginseng, Licorice root, and Astragalus Membranaceus.
Cleanses the colon of excess cholesterol, dietary toxins and waste with 17.2% soluble and insoluble high pectin apple fiber.
Re-populates friendly intestinal bacteria with 2.5 billion airy-free probiotic cultures of seven different strains including Acidophilus ATCC 4356.