3A Calcium Ultra aka AdvaCal Ultra - 180 CP by Lane Labs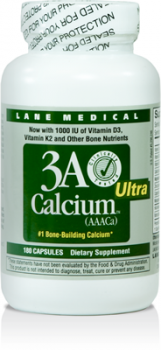 SKU: LAN060
MPN: CAL3A-1000U

3A Calcium Ultra - 180 CAP aka AdvaCal Ultra By Lane labs, Lane medical - 3A Calcium (AAACa or Active Absorbable Algal Calcium) is a Calcium supplement. This product is the professional version of AdvaCAL.
Ingredients per 3 VC:
Vitamin C 100 mg, Calcium 500 mg, Vitamin D3 200 mg, Magnesium 300 mg, Zinc 6 mg, Copper 1 mg, Manganese 2 mg, Silica 90 mg, Boron 2 mg,
Other Ingredients:
Citric Acid, Cellulose, Crosprovidone, Hydroxypropyl Methylcellulose, Magnesium Stearate.
Suggested Use:
Take 3 VC in the morning and 3 VC in the evening, preferably with meals.
What is it?
3A Calcium (AAACa or Active Absorbable Algal Calcium) is a Calcium supplement. Three capsules contains 600 mg of elemental Calcium as Calcium hydroxide, Calcium oxide, combined with algae amino acid extract. Other ingredients include Citric acid, Gelatin, Glycerin and Water.
What does it do?
This Japanese discovery (it is the best selling Calcium supplement in Japan) solves the problems associated with Calcium supplementation. Most people are deficient in Calcium. The daily needs for Calcium range from 1000 mg to 2000 mg per day but the average diet contributes only 500 mg per day.
The problem with the typical Calcium supplement is that so little of it is absorbed. The most popular supplement is Calcium Carbonate from oyster shells. In most people only 20% of the Calcium is absorbed and in people with low stomach acid (particularly the elderly most at risk for osteoporosis) as little as 4% may be absorbed. Instead of addressing the problem of Calcium deficiency they take toxic drugs instead. Calcium Carbonate can also cause gas and acid rebound. Plus the oyster shells may contain lead and other contaminants found in the ocean.
Other forms of Calcium are more easily absorbed (Calcium citrate, for example) but contain relatively little Calcium so many pills have to be swallowed. Through a patented method, 3A Calcium is made into small, easily swallowed capsules that are highly bioavailable. The secret is in creating an ash by burning the oyster shell at high temperatures to get rid of impurities and break the chemical bonds. Then it is combined with an algae extract which for some unknown reason allows it to be assimilated by the body.
99% of Calcium is stored in the body's bones and teeth. Calcium, though, has many other functions in the body and a chronic shortage of Calcium causes an increase in parathyroid hormone (PTH) which pulls Calcium out of the bones for other purposes. These purposes include muscle contraction, blood clotting and nerve conduction, none of which occurs without Calcium.
During August and September 2008 the Townsend Letter discussed this product effectiveness in bone building.
Supplement Facts
Serving Size: 3 Capsules
Servings Per Container: 60
Amount Per Serving
% Daily Value
Vitamin C (as ascorbic acid)
50mg
84%
Vitamin D3 (cholecalciferol)
500 IU
125%
Vitamin K2 (menaquinone)
50mcg
63%
Calcium ...(as calcium hydroxide & calcium oxide)
500mg
50%
Magnesium ...(magnesium oxide and magnesium citrate)
300mg
75%
Zinc (as monomethionate)
6mg
40%
Copper (as copper citrate)
1mg
50%
Manganese (as manganese sulfate)
2mg
100%
HAI Amino Acid Extract (from sea algae)
*
Boron (as boron citrate, aspartate & glycinate)
2mg
*
*Daily Value Not Established
Other Ingredients: Gelatin, Citric Acid, Croscarmellose Sodium, Microcrystalline Cellulose, Stearic Acid and Magnesium Stearate.
THE #1 Bone-Building Calcium

3A Calcium (AAACa) is a patented, ionized calcium from Japan comprised of calcium oxide and calcium hydroxide. AAACa also is potentiated with HAI™ (heated algal ingredient), a patented amino acid complex from super-heated hijiki seaweed. These two patented, natural ingredients are only available in 3A Calcium. Backed by 20 years of clinical research and 30 published, scientific articles, 3A Calcium has shown consistent, dramatic increases in bone density and reduced fracture rates. It is the #1 Bone-Building Calcium.