Yummi Bears - Multivitamin - 90 Bears by Hero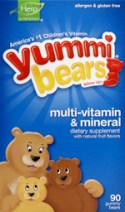 List Price:
$12.99
Sale Price:
$10.39
You Save:
()

Easy to chew & swallow
All Natural Colors & Flavors
Allergen & Gluten Free
Kids love the tasty, fun, colorful Bears
Description
A Note To Parents. . . YUMMI BEARS has become the most recognizable brand of children's supplements because of our commitment to delivering high quality, all-natural vitamins and minerals kids need everyday.
YUMMI BEARS Multi-Vitamin & Mineral offers an exclusive all-in-one formula that contains the right amount of vitamins and minerals, including Calcium, Vitamin C and Folic Acid, important for your child's growth and development.*
The YUMMI BEARS Complete Nutritional System is designed to compliment children's dietary needs. Use YUMMI BEARS Multi-Vitamin & Mineral along with YUMMI BEARS Whole Food + Antioxidants and YUMMI BEARS Vitamin C for complete, well-balanced nutrition.
Supplement Facts
Serving Size: 3
Servings per Container: 30
Amount Per Serving
% Daily Value
Calories
322.5
Total Carbohydrates
4 g
*
Sugars
3 g
*
Vitamin A (as Vitamin A Palmitate)
2500 IU
100%
Vitamin C (as Ascorbic Acid)
30 mg
75%
Vitamin D (as Cholecalciferol)
200 IU
50%
Vitamin E (as dl-Alpha Tocopheryl Succinate)
15 IU
150%
Folic Acid (as Folic Acid)
200 mcg
100%
Vitamin B12 (as Cyanocobalamine)
3 mcg
100%
Pantothenic Acid (as Calcium Pantothenate)
5 mg
100%
Calcium (as Calcium Citrate)
9.2 mg
1%
Iodine (as Potassium Iodide)
75 mcg
110%
Magnesium (as Magnesium Citrate)
8 mg
4%
Vitamin B6 (as Pyridoxine Hydrochloride)
1 mg
150%
Vitamin K (as Vitamin K1)
40 mcg
100%
Chromium (as Chormium Chloride)
60 mcg
100%
Niacin (as Niacinamide)
10 mg
100%
Biotin (as Biotin)
150 mcg
300%
Zinc (as Zinc Citrate)
7.5 mg
100%
Sodium
4 mg
*
For Children Under 4% DV For Children Under 4
*Daily value not established.
Other Ingredients: Glucose Syrup, Natural Cane Juice, Gelatin, Citric Acid, Lactic Acid, Natural Colors, Natural Colors added, (Including, Black Carrot, Annatto, Turmeric, And Grape Skin Liquid), Natural Flavors, Fractionated Coconut Oil, Carnauba Wax (to help prevent sticking)
Free Of:
Yeast, Wheat, Milk, Egg, Soy, Gluten, Salt, Artificial Colors, Artificial Flavors, Salicylates and Preservatives.
Directions:
As a dietary supplement, parents may give each child up to three (3) bears per day.