Zen - 200 MG - 60 VCP by Allergy Research Group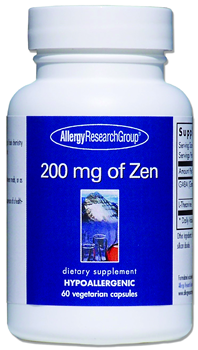 List Price:
$30.50
Sale Price:
$26.70
You Save:
()
Save even more with Volume Discounting:
| | | | | |
| --- | --- | --- | --- | --- |
| Qty | 1 - 2 | 3 - 5 | 6 - 11 | 12+ |
| Price | $26.70 | $25.93 | $25.47 | $25.01 |

SKU: ALL910
MPN: 74700
UPC: 713947747005
200 mg of ZEN
200 Mg of Zen 60 vegetarian capsules by Allergy Research Group, Nutricology.
Research has shown that dietary components can modulate our body's levels of neurotransmitters, e.g. serotonin, dopamine, norepinephrine, and gamma-aminobutyric acid (GABA). Alterations in the levels of these neurotransmitters, perhaps induced by metabolic stress or vitamin deficiencies, e.g. vitamin B6, can significantly influence mood and emotional status, as well as motor function.
Maintains healthy emotional status

Helps support a feeling of general relaxation without sedation.

Promotes effective resistance to adverse moods induced by hormonal changes
GABA is the major inhibitory neurotransmitter in the brain and is active at 20% of CNS synapses. As an inhibitory mediator in the brain, GABA, via its neuronal A receptor, inhibits neurons by causing an influx of chloride ions. The anxiolytic, muscle relaxant, and sedative effects of the benzodiazepines, e.g. Librium and Valium, rely upon the facilitation of this chloride influx initiated by GABA.
There is evidence that anxiety and panic disorders are associated with excessive neuronal activity consequent to a decrease in GABA's function as an inhibitory mediator. The adverse psychological signs associated with premenstrual syndrome may be due to a dysregulated sensitivity of GABA receptors. Studies with oral administration of sodium valproate (an enhancer of endogenous GABA activity) and the muscle relaxant Baclofen (an agonist of the GABA B receptor) demonstrate their ability to stimulate increased HGH levels.
Theanine (glutamic acid gamma-ethylamide) an amino acid derivative found naturally in tea (Camellia sinensis) is also recognized as having calming properties. Human studies have demonstrated that dietary theanine supplementation increases alpha wave activity, fostering a state of alert relaxation. Animal studies have also shown that administration of theanine regulates brain serotonin concentration by affecting either serotonin synthesis or degradation in the brain. It has been hypothesized that serotonin facilitates general and conditioned anxiety at the level of medial temporal lobe structures.
Suggested Use:
2 capsules, one to two times per day, or as directed by a healthcare practitoner.
Ingredients Zen 200 mg 60 Capsules, per 2 capsules:
Gaba (Gamma-aminobutyric acid) 750 mg Theanine 200 mg
Other Ingredients: Silicon dioxide, Carbowax
Although the calming effect of this tea component may seem contradictory to the stimulatory properties of tea's caffeine content, research suggests that theanine exerts an antagonistic effect on caffeine's stimulatory action. # 74700
Supplement Facts
Serving Size: 2 capsules
Servings Per Container: 30
Amount Per Serving
% Daily Value
GABA (Gamma-Aminobutyric acid)
550 mg
L-Theanine
200 mg
*Daily Value Not Established
Other Ingredients: Hydroxypropyl methylcellulose, L-leucine.
For that Buddha-like feeling! 200 mg of Zen offers a unique and natural path to relaxation without sedation.* This formula contains a combination of L-theanine and GABA. L-theanine is found in green tea (Camellia sinensis) and has been shown to support the production of alpha-wave activity in the brain.*