Symbiotics with FOS - 140 GM by Allergy Research Group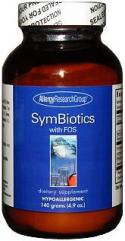 List Price:
$28.84
Sale Price:
$25.25
You Save:
()
Save even more with Volume Discounting:
| | | | | |
| --- | --- | --- | --- | --- |
| Qty | 1 - 2 | 3 - 5 | 6 - 11 | 12+ |
| Price | $25.25 | $24.51 | $24.08 | $23.65 |

SKU: ALL860
MPN: 71130
UPC: 713947711303
SymBiotics with FOS Powder 140 grams (4.9 oz.) by Allergy Research Group, Nutricology.
SymBiotics with FOS puts the probiotics all together in one convenient powdered formula! Some suppliers claim that the probiotic strains can only work if given one at a time, and that certain single strains have near magical properties. Yet the intestinal micro-ecosystem typically carries up to 400 strains of bacteria. From the point of view of intestinal health, a product that provides bacteria for the different probiotic "niches" makes a lot more sense. The nine strains in SymBiotics include Lactobacillus acidophilus; L. rhamnosus A and L. rhamnosus B (both more versatile and hardier than L. acidophilus); L. bulgaricus and L. casei (major contributors to fermented foods); and L. sporogenes (Bacillus coagulans), a particularly hardy and antibiotic resistant probiotic strain.* Bifidobacterium longum and B. breve, two of the hardier bifidobacteria, are also present in high potency, as is Streptococcus thermophilus. The bifidobacteria thrive on the FOS provided in this formulation, and ascorbic acid (vitamin C) is added as a stabilizer. SymBiotics with FOS provides more than 4 billion viable organisms per serving. Lyophilized (freeze dried).
Suggested Use: As a dietary supplement, 1 level teaspoon two or three times daily, or as directed by a healthcare practitioner.
CAUTION: Some individuals using FOS experience gastrointestinal bloating that does not subside after 1 or 2 weeks of use. In those cases, FOS should be discontinued. Recent clinical experience by some practitioners suggests that there are some unfriendly microbial invaders that are suspected of feeding on FOS. Symptoms of that occurring would be as indicated above.
Serving Size 1 teaspoon (3.5 g)
Servings per container 40
Amount per serving:
Calories 10
Total Carbohydrates 3 g
Sugars 3 g
Vitamin C (as Ascorbic Acid) 180 mg
Fructooligosaccharides 3 g
Lactobacilli 3 Billion
Bifidobacteria 0.8 Billion
Streptococcus thermophilus 0.4 Billion
Other ingredients: Silicon dioxide.
To maintain potency, store tightly closed and refrigerated. Short term heat exposure is acceptable during shipping. # 71130