Prima Una De Gato (Cats Claw) - 90 CP by Allergy Research Group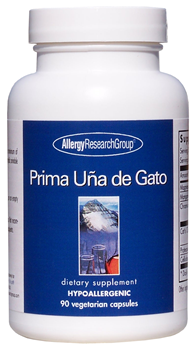 List Price:
$98.38
Sale Price:
$88.55
You Save:
()
Save even more with Volume Discounting:
| | | | | |
| --- | --- | --- | --- | --- |
| Qty | 1 - 2 | 3 - 5 | 6 - 11 | 12+ |
| Price | $88.55 | $86.58 | $85.39 | $84.21 |

SKU: ALL730
MPN: 75040
UPC: 713947750401
Prima Una de Gato
Prima Una de Gato 90 vegetarian capsules by Allergy Research Group, Nutricology also known as Samento.
Each capsule contains:
Cat's Claw (bark) extract* (standardized to 0.5% POAs) 375 mg
Magnesium (as Magnesium Malate) 20 mg
Manganese (as Manganese Citrate) 30 mcg
Chromium (as Chromium Polynicotinate) 5 mcg
Protease 30000 HUT
Cellulase 1600 CU
Other ingredients: Bamboo fiber. *100% TOA-free
As a dietary supplement, 1 capsule one to three times daily, on an empty stomach, or as directed by a healthcare practitioner.
Provides active ingredients that can help modulate and support immune function, and is free of tetracyclic oxindole alkaloids (TOAs). Can help regulate inflammation and microbial balance in the gastrointestinal system. Provides antioxidant activity and support of circulation U a de Gato (Uncaria tomentosa), or catīs claw, has long been used by indigenous healers in the rainforests of the Peruvian Andes and elsewhere in South America. In recent times it has been studied for its ability to support gastrointestinal and immune functions. In the gastrointestinal tract, it has been shown to help control inflammation and microbial balance, and soothe irritated tissue. Research into its ability to support the immune system has shown that it has antioxidant properties, which may support the bodyīs inhibition of the development of potentially aberrant cells. It can support circulation through the strengthening of capillaries.
Prima Una de Gato is a standardized whole herb, manufactured using a proprietary process that does not involve the use of solvents. Regular catīs claw contains both tetracyclic oxindole alkaloids and pentacyclic oxindole alkaloids, whereas Prima Una de Gato is standardized to 0.5% pentacyclic oxindole alkaloids (POAs), and is 100% free of tetracyclic oxindole alkaloids (TOAs). Why is this distinction important? Regular catīs claw typically has a total alkaloid content of 3.0%, with up to 20-25% of that alkaloid content in the form of TOAs. Prima Una de Gato extract, standardized to a minimum of 0.5% POA, is free of TOA. The POA content of Prima U a de Gato is much more effective, because immune enhancement is diminished when the two chemotypes are mixed. TOAs are chemical antagonists that act upon the central nervous system and can greatly inhibit the positive effect of the POAs. POAs primarily affect the immune cells responsible for nonspecific and cellular immunity, and demonstrate powerful immune system modulating properties. In short, Prima Una de Gato, containing only POAs, may have more benefit for immune enhancement than a standard catīs claw containing both pentacyclic and tetracyclic alkaloids.
TOA-free chemotype catīs claw can help to restore and boost the immune system. The POAs are the active ingredients that provide the principal immunomodulating and immunostimulating activity. POAs are actively involved in the functional mechanisms of both innate and acquired immunity, assisting in the maintenance of the immune systemīs structural and functional integrity. In addition, Prima Una de Gato contains quinovic acid glycosides, the natural compounds upon which the synthetic antibiotic quinolones are based.
TOA-free catīs claw was introduced into Bulgaria, which has a high occurrence of Borrelia burgdorferi, in January 2001, where it quickly became the most widely sold natural remedy in that country. TOA-free chemotype catīs claw has been used by Dr. Atanas Tzonkov in Bulgaria's largest private medical clinic, in the nutritional support for thousands of patients, involving over 100 conditions. Also in 2001, the Hungarian National Institute of Pharmacy (OGYI), equivalent to the U.S. FDA, approved TOA-free chemotype catīs claw for over-the-counter use.
Prima Una de Gato offers a significant advancement in our understanding of the best utilization of Uncaria tomentosa. The Prima Una de Gato formula is potentized with minerals and enzymes to support detoxification, and has been clinically tested. Atanas Tzonkov, director of the Lechitel Clinic in Sofia, Bulgaria, has stated that TOA-free chemotype catīs claw can fortify a personīs own self-healing power which Nature has built into his spirit, mind and body. # 75040