Alta Sil-X - 120 TB by Alta Products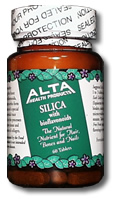 List Price:
$24.95
Sale Price:
$23.96
You Save:
()

SKU: ALT300
MPN: 18
UPC: 076920000222
Sil-X By Alta Health Products - Silica contains Horsetail grass, which has a high silicon content. Silicon is to keep blood vessels, bones, nails, hair and skin healthy.
Product Description:
Silica is an essential trace mineral that plays a biological role in the processes by which bone, cartilage, connective tissue and skin are formed and is a component of collagen. Using the finest quality European Horsetail Extract with bioflavonoids, Alta Health Silica provides the pure organic form of soluble/collodial Silica by means of the special extraction process patented by Prof. Louis Kervran.
Ingredients:
Manufactured with all natural fillers, binders, coatings and excipients, including: Whey, microcrystalline cellulose, vegetable stearin, magnesium stearate. Tablets are coated with vegetable zein from corn.
Notes:
Free from: Sugar, salt, yeast, wheat, soy, colorings, flavorings or preservatives.
Recommended Use:
As a dietary supplement take 1 to 3 tablets daily, preferably with meals.
Nutritional Facts
Serving Size: 1 Tablet
Servings per Container: 60
Amount Per Serving % Daily Value*
Horsetail Herb Extract ((Equisetum Arvense) 500mg **
* Based on a 2,000 calorie diet
** Daily Values not established
Supplement Facts
Serving Size: 1 to 3 tablets
Servings Per Container:
Amount Per Serving
% Daily Value
Horsetail extract (Equisetum Arvense)
500 mg
1500 mg
*Daily Value Not Established
Other Ingredients: Whey, Cellulose, Hydroxypropyl cellulose, Stearic Acid, Silicon Dioxide, Magnesium Stearate, Croscarmellose Sodium, Tablets are clear film coated Free from :Sugar, salt, yeast, wheat, soy, colorings, flavorings or preservatives. No GMO Gluten Free.
The Natural Nutrient for Hair Bones and Nails.