DHEA 25 MG - 60 TB by Allergy Research Group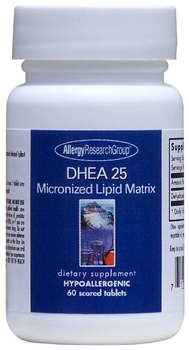 List Price:
$24.80
Sale Price:
$21.70
You Save:
()

SKU: ALL321
MPN: 72820
UPC: 713947728202
Time-release DHEA (plant source) for superior utilization. DHEA is an important adrenal hormone.
Suggested Use: As a dietary supplement, for women: 1/2 to 1 tablet per day; for men: 1 to 2 tablets per day, or as directed by a healthcare practitioner.
Other ingredients: Dicalcium phosphate, stearic acid, magnesium stearate, cellulose, silicon dioxide.
This nutrient is of the highest quality and purity obtainable, free of all common allergens (antigens), and does not contain preservatives, diluents, or artificial additives.
Variations in product color may occur. Keep in a cool, dry place, tightly capped.
WARNING: NOT FOR USE BY INDIVIDUALS UNDER THE AGE OF 18 YEARS. DO NOT USE IF PREGNANT OR NURSING. Consult a physician or licensed qualified health care professional before using this product if you have, or have a family history of, prostate cancer, prostate enlargement, heart disease, low "good" cholesterol (HDL), or if you are using any other dietary supplement, prescription drug, or over-the-counter drug. Do not exceed recommended serving. Exceeding recommended serving may cause serious adverse health effects. Possible side effects include acne, hair loss, hair growth on the face (in women), aggressiveness, irritability, and increased levels of estrogen. Discontinue use and call a physician or licensed qualified health care professional immediately if you experience rapid heartbeat, dizziness, blurred vision, or other similar symptoms.
Supplement Facts
Serving Size: 1 scored tablet
Servings Per Container: 60
Amount Per Serving
% Daily Value
DHEA
25 mg
*Daily Value Not Established
Other Ingredients: Micosolle™, microcrystalline cellulose, vegetable oil, vegetable wax, Cab-o-sil®, magnesium stearate.
Micronized and sustained released DHEA. It is formulated in a lipid matrix to bypass the liver, and micronized to a particle size of less than 50 microns for optimal absorption. Soy free – the source material (wild yam) is non-irradiated and non-ethylene-oxide-treated. Replaces product #72821.