Mucolyxir - 0.4 OZ by Allergy Research Group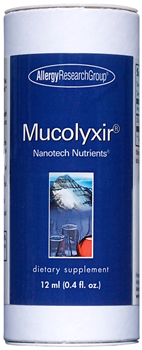 List Price:
$41.57
Sale Price:
$36.35
You Save:
()
Save even more with Volume Discounting:
| | | | | |
| --- | --- | --- | --- | --- |
| Qty | 1 - 2 | 3 - 5 | 6 - 11 | 12+ |
| Price | $36.35 | $35.34 | $34.71 | $34.09 |

SKU: ALL567
MPN: 75360
UPC: 713947753600
Mucolyxir® Nanotech Nutrients™ (Hypoallergenic)12 ml liquid (0.4 fl. oz.) by Allergy Research Group, Nutricology.
Description:
Mucolyxir® is a DNA-based formulation, utilizing DNA from wild Pacific salmon, that supports respiratory health.* One method by which the body attempts to keep the lungs clear of mucus is to mount an immune response against the agent(s) causing the problem. When the attempts to eliminate foreign material fail, excessive DNA can build up from lysed white blood cells, resulting in viscous mucus. The small amount of DNA in Mucolyxir® may balance mucus levels via a regulatory mechanism.* Based on pre-clinical investigations and clinical trials, Mucolyxir® appears to support cilia motion, and liquification and elimination of mucoid substance.*
Respiratory Diseases
Asthma
Allergic Respiratory Disease
Allergic Rhinitis
Cystic Fibrosis
Sinusitis
Bronchitis
COPD
Emphysema
Mucositis
Otitis Media
Reactive Airway Disease
Suggested use: 1 or 2 drops, placed in mouth slowly, then swallowed, one to four times per day, or as directed by a healthcare practitioner. To avoid dilution, do not eat or drink for 5 minutes after taking. Additional Usage Notes: At the start of use, individuals may take more, as follows:
Day 1: Take 1 drop every fifteen minutes for one hour. Then take 1 drop every hour until bedtime. Days 2 and 3: Take 1 drop after each meal and before bed (4 times total). Day 4 and beyond: Maintain schedule or use only as needed.
Serving Size 1 drop
Servings per container 240
Amount per serving:
DNA 0.3 µg
Other ingredients: Purified water, sodium chloride, potassium sorbate, lactic acid.
Keep in a cool, dry place, tightly capped. # 75360