Oscillococcinum - 6 Doses by Boiron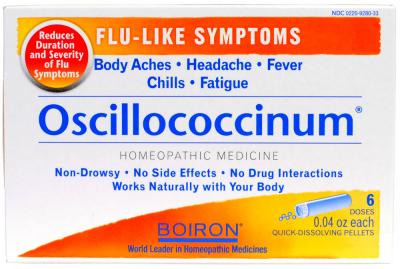 List Price:
$12.99
Sale Price:
$6.49
You Save:
()

SKU: BOI002
MPN: 99851
UPC: 306969059043
USES:
Temporarily relieves flu-like symptoms such as fatigue, headache, body aches, chills and fever
DIRECTIONS:
Adults and children 2 years of age and older: Dissolve entire contents of one tube in the mouth every 6 hours, up to 3 times a day.
Children younger than 2 years of age: Ask a doctor.
ACTIVE INGREDIENT:
Anas barbariae hepatis et cordis extractum 200CK HPUS – To reduce the duration and severity of flu-like symptoms
The letters HPUS indicate that this ingredient is officially included in the Homeopathic Pharmacopœia of the United States.
INACTIVE INGREDIENTS: