D-Ribose - 60 GM by Ecological Formulas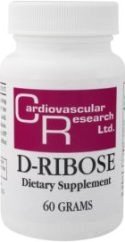 List Price:
$19.95
Sale Price:
$17.95
You Save:
()
Save even more with Volume Discounting:
| | | | | |
| --- | --- | --- | --- | --- |
| Qty | 1 - 2 | 3 - 5 | 6 - 11 | 12+ |
| Price | $17.95 | $17.57 | $17.33 | $17.09 |

D-Ribose 60 GM by Ecological Formulas Cardiovascular Research has Improves Pain and Quality Of Life in Fibromyalgia and Chronic Fatigue Patients
Can a simple sugar provide relief for the millions of patients afflicted with the diagnosis of fibromyalgia and/or chronic fatigue?

That's what Jacob Teitelbaum, MD, and Valen Labs wanted to determine with an open label, 41-patient feasibility study, the results of which are now being released.

The study had two endpoints: assessing the level of relief in symptoms of fatigue and pain; and determining changes in patient quality of life.

The patients in the study had an average age of 48 years and were 78-percent female, which is in keeping with the general population as fibromyalgia and chronic fatigue syndrome affect twice as many women as men and typically first appears at middle age.

At the start of the study the patients completed a 10-point quality of life visual analog scale and then took five grams of D-ribose orally, three times a day, for an average of 28 days.

After the 28-day treatment period the QOL questionnaire was repeated, and 69-percent of the 36 patients who completed the course of treatment had significant improvement in their symptoms. They also averaged a 25-percent improvement in the QOL scale.

What this did was verify what we already knew about the impact of ribose on energy recovery in muscles generally," says Jacob Teitelbaum, MD, Medical Director of the Center for Effective CFS/Fibromyalgia Therapies in Annapolis, Maryland. "But specifically we determined the energy building benefit of ribose directly improved the debilitating symptoms of these conditions. I think this study, and follow on studies now in development, will make ribose one of the most important new nutrients studies in the next few years.

Any bit of good news on the relief front - from ribose or otherwise - will certainly be welcome by the over two million Americans who suffer from widespread pain, sleep disturbances, fatigue, reduced exercise tolerance, irritable bowel syndrome, anxiety, depression, headaches and other symptoms of fibromyalgia and chronic fatigue syndrome.

Despite the fact chronic pain syndromes with fibromyalgia-like symptoms have been described in medical literature for over 200 years, we still don't know the exact cause."We do know however that people with fibromyalgia have lower levels of the energy molecule called adenosine triphosphate (ATP) and a reduced capacity to make ATP in their muscles. We know from previous studies ribose can fuel ATP synthesis and are gratified to see this latest piece of science showing ribose supplementation can reduce muscle pain and enhance quality of life for those suffering with fibromyalgia and/or chronic fatigue.
Directions: Mix 5 grams with 6-8 ounces of liquid, stir briskly and drink.  Take in the morning and evening on an empty stomach 30 minutes before meals. 
Supplement Facts
Serving Size: 1 g (approx. 1/4 tsp)
Servings Per Container: 60
Amount Per Serving
% Daily Value
Calories
4
Total Carbohydrate
1 g
0%
Sugars
1 g
**
D-Ribose
1000 mg
**
*Daily Value Not Established