Copper Sebacate - 75 CP by Allergy Research Group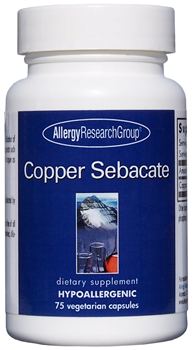 List Price:
$13.15
Sale Price:
$11.50
You Save:
()
Save even more with Volume Discounting:
| | | | | |
| --- | --- | --- | --- | --- |
| Qty | 1 - 2 | 3 - 5 | 6 - 11 | 12+ |
| Price | $11.50 | $11.18 | $10.98 | $10.78 |

SKU: ALL300
MPN: 70310
UPC: 713947703100
Copper Sebacate 75 capsules (Hypoallergenic) by Allergy Research Group, Nutricology.
Copper is an essential trace mineral with the highest concentration found in the brain. It is responsible for a variety of enzymatic reactions in the body and deficiency is not common because copper water pipes in many homes and copper cookware are sources of dietary copper. The absorption and utilization of copper can be hindered by elevated intakes of copper antagonists such as zinc, iron, vitamin C and fructose sweeteners.
The intake of copper in sebacate salt form improves its bioavailability. Tests have shown it to be the only form of copper able to promptly restore the function of the copper enzymes tyrosinase, lysyl oxidase, and ceruloplasmin. Superoxide dismutase (SOD) is the copper-containing enzyme responsible for the breakdown of the superoxide free radical produced as a by-product of irradiation. We believe the sebacate form of copper is safer because it generally does not lead to free radical generation.
Suggested use: As a dietary supplement, 1 capsule daily with a meal, or as directed by a healthcare practitioner.
Serving Size 1 capsule
Servings per container 75
Amount per serving:
Copper (as Copper Sebacate) 4 mg
Other ingredients: Gelatin, cellulose, dicalcium phosphate, silicon dioxide, magnesium stearate.
This nutrient is of the highest quality and purity obtainable, free of all common allergens (antigens), and does not contain preservatives, diluents, or artificial additives.
Keep in a cool, dry place, tightly capped. # 70310