Alli-Cinn - 60 CP by Pharmax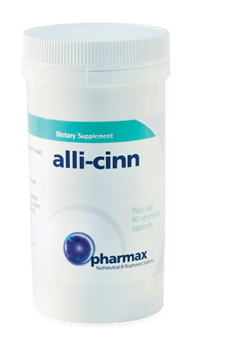 SKU: PHA150
MPN: PA01-60
UPC: 883196208906
Alli-cinn by Pharmax LLC is an excellent broad-spectrum antimicrobial preparation of garlic and cinnamon extracts, specifically formulated to safely and naturally act against undesirable bacteria, fungi, viruses and protozoa. Unlike destructive antibiotics, the antimicrobial constituents in Alli-cinn are gentle to the cells of the intestinal, urinary, and vaginal tract and do not disrupt the beneficial bacteria which keep the immune system strong, and keep the intestines functioning optimally. Yet, Alli-cinn has antimicrobial effects similar to most antibiotics, thus an ideal alternative to using antibiotics or anti-fungal's.
Common used for:
Yeast and fungus (i.e. Candida, Aspergillus, Viral (i.e. influenza, herpes simplex, Porcine Rotavirus), Protozoa (i.e. Giardia, Cryptosporidium, Blastocystis, Trichomonas vaginalis), Bacterial (i.e. colds, bronchitis, sinusitus, bacterial vaginosis, Intestinal dysbiosis, Cold and flu, Gram positive and Gram negative, bacteri, Staphylococcus aureus, E. coli (Escherica coli), Candida albicans, Bacillus cereus, Saccharomyces, cerevisiae, Listeria monocytogenes, Clostridium perfringens, Salmonella enteritidis, Pseudomona, aeruginosa, Listeria monocytogenes.
Powerful antimicrobial supplement made of freeze dried garlic extract concentrate (allicin) and cinnamon bark oil.
Special manufacturing process unlike other garlic extracts which is made to release upon contact with the gut when the contents get wet with water and acid to have maximum effect in the GI and body.
No negative effect on the beneficial lactic acid flora of the G.I. and Urinary tracts
Designed to be used alongside with HLC probiotics.
Garlic has been shown to reduce platelet aggregation and is beneficial for the circulation.
Garlic is known to help lower serum cholesterol and triglyceride levels and increase high density lipoproteins (HDL's)
The pre-emulsified, freeze-dried cinnamaldehyde powder concentrate is very gut active
Suitable for vegetarians and vegans.
Ingredients Per capsule

Freeze dried garlic concentrate (Allium sativum) 500mg providing 7.2mg allicin - forming potential
Freeze dried cinnamon bark oil concentrate (Cinnamomum cassia) 200mg providing 40mg cinnamaldehydes.

Non-active ingredients: Vegetable magnesium stearate, silica. Capsule: cellulose and water.

Recommended: One capsule twice daily with meals.

Contraindications: Use with discretion during pregnancy. Fine during breastfeeding if kept down to 2 capsules daily.

More Info About Alli-Cinn by Pharmax
Alli-Cinn has the broadest spectrum of activity of all the plant antimicrobial substances tested, with dramatic inhibitory effects over a vast range of microorganisms, not only against many bacteria (including that which causes bacterial vaginosis, E. coli, Salmonella, and Staphylococcus aureus) but also many yeasts, fungi, protozoa and even viruses. Perhaps the most important discovery, however, was that allicin has virtually no negative effect on the beneficial lactic flora of the gastrointestinal (G.I.) and genitourinary (G.U.) tracts.
The cinnamaldehydes in cinnamon bark oil are very potent against gram-negative bacteria like E. coli, and gram-positive bacteria like Staphylococcus aureus (including MRSA) and are also strongly active against yeasts and fungi. In fact, cinnamaldehydes have the greatest antibacterial and anti fungal activity of all of the common volatile oils. Cinnamaldehyde is included in Pharmax's Alli-Cinn at a concentration below the levels at which lactic acid bacteria are affected.
A combination of freeze-dried concentrates of whole garlic and cinnamon bark oil. The medicinal properties of fresh garlic have been known for centuries. The problem that has arisen in presenting garlic as a supplement is the inherent instability of the initial active substance, allicin, which is created when a clove of garlic is crushed.
Allicin is not found within the garlic clove. Instead, when the clove is crushed, allicin is formed instantaneously from the interaction of an enzyme called alliinase on a precursor of allicin called alliin. By selecting the highest quality garlic cloves, rich in alliin and alliinase, and then gently freeze-drying them, a concentrated powder is produced which only releases the prime active allicin component when ingested and rehydrated, i.e. all of the allicin is released within the gastro-intestinal tract.
Supplement Facts
Serving Size: 1 capsule
Servings Per Container: 60
Amount Per Serving
% Daily Value
Freeze dried garlic concentrate (Allium sativum)clove
500mg
+
Freeze dried cinnamon bark oil concentrate (Cinnamomum cassia) (providing 40mg cinnamaldehydes)
200mg
+
*Daily Value Not Established
Other Ingredients: Cellulose, silica, vegetable magnesium stearate.