Fibromya - 30VC by Hamida Pharma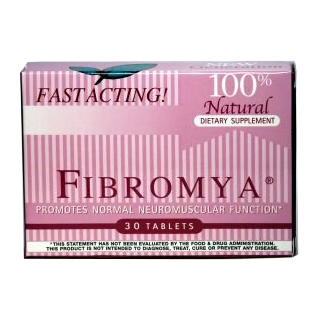 List Price:
$26.95
Sale Price:
$13.47
You Save:
()

SKU: HAM225
MPN: F-BTW-FIB01
UPC: 676540100514
Fibromya by Hamida Pharma helps with POWER SUPPORT FOR STRONG MUSCLES AND NERVES!
Fibromya is a unique combination of botanical extractions from daisy flowers, grape leaves, and Olive pits. The botanical extractions are bio-enhanced with MediBotanicas patent-pending technology.
Suggested Use of Fibromya:
Take 2 Fibromya tablets per day for the first 5 days with at least 4 hours between each tablet. Then take 1 tablet per day thereafter as needed.
Fibromya is available in 200 mg tablets.
Product Applications:
Fibromya is designed to provide relief from the pain and discomfort of fibromyalgia. Fibromya also has efficacy as an anti-depressant. Most patients report a dramatic reduction or disappearance of myalgia pains. Sleep patterns improve as well as depression, mental alertness and cognition. Fatigue reduces and much increased energy levels are reported. Many patients respond within minutes of chewing one Fibromya tablet. Patients with sciatica also report relief from the associated pain when they take Fibromya.
Note:
Since fibromyalgia patients often have associated gastric and urogenital problems, they may benefit from concurrent usage of PhytoPharms Gastrol and Urinol. Where extra pain relief is required, Arthritol may also assist.
BioEnhanced Extraction (B.E.E.), an integrated manufacturing technology consisting of the purification, isolation/extraction and bioenhancement of specific volatile oils and other important botanical phytonutrients. B.E.E. facilitates extraordinary dosage potency in an extremely fast-acting form. In addition, heavy metals and the plant's natural defense toxins are eliminated, leaving only its beneficial compounds in their purest and most active forms. With B.E.E. you receive all of what you need and none of what you don't for greater safety, efficacy and no unexpected adverse side effects.
Healing*Edge Sciences have found the Hamada Pharma product to exceed their expected performance.
Supplement Facts
Serving Size: 1 Table
Servings Per Container: 15
Amount Per Serving
% Daily Value
Daisy Leaves Extract, Grape Leaves Extract, Olive Pit Extract, Pineapple Fruit Extract, Orange Juice Powder.
315 mg
+
*Daily Value Not Established
Other Ingredients: Microcrystalline Cellulose, Magnesium Stearate.
Fibromya is designed not only to help relieve multiple symptoms of fibromyalgia, such as widespread tenderness and pain in the body, chronic fatigue, poor sleep quality, anxiety, gastro-intestinal and urinary symptoms etc., but also target the possible causes of fibromyalgia. Fibromya is very helpful in the reduction of muscle tension, thereby relieving patients from the symptoms listed above and giving patients a feeling of greater energy and an improved sense of well-being.
Chamomile Extract, Pineapple Extract, Orange Juice Extract, Stearic Acid, Silicon Dioxide, Microcrystalline Cellulose.