GinST 15 - 30 Capsules by Ilhwa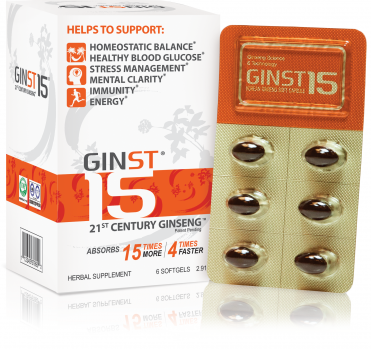 SKU: ILHWA003
MPN: 201040
UPC: 8801223000028
In Stock
Usually ships within 24 hours
Regular ginseng extract takes 12 hours to get maximum absorption while Gin ST15 extract will get maximum absorption in 3 to 4 hours. This illustrates the far greater absorption of GinST 15.
As the world leader in ginseng science, Ilhwa was determined to find a solution to this problem of absorption, and in 1999 they secured 2 patents for creating ginseng extract metabolites via human bacteria. They continued their diligent work in the next decade developing a high yield enzyme fermentation process with their famous ginseng extract creating 2 more patents in 2009 and 2010.
When GinST 15 extract is taken, a far larger amount is absorbed in the blood compared to standard ginseng extract. (15 times more AUC)
The GinST 15 extract provides a 4 times faster absorption than standard ginseng extract.
With standard ginseng extract each individual possesses different capability in metabolizing ginsenosides. Absorption is inconsistent, and there is a wide range of average times in reaching the maximum plasma concentration. In addition, only a small amount of ginseng extract is absorbed. When GinST 15 extract is taken, absorption is approximately 4 times more consistent.
How is GinST 15 used?
GinST 15 has a broad affect on health and wellbeing. It is virtually not contra indicative. It harmonizes and augments a broad range of protocols and supplements. So the applications for GinST 15 are remarkably diverse as a stand alone supplement and as part of a formulation.
KFDA functional health claim
Many studies have been done on GinST 15 which is shown in research via its metabolite marker IH901 and Compound K. One of the areas where Ilhwa has created numerous studies is energy creation, blood glucose and blood lipid management. Il Hwa's research is so substantial that they received a KFDA certification for a functional health claim for blood glucose management.
GinST 15 can be used for functional food and beverage, capsules, nutraceuticals, medical foods and cosmeceutical formulations. GinST 15 is the ideal complementary ingredient with applications for products that aid in Erectile dysfunction, blood glucose management, immunity, cardio vascular heath, anti-aging, anti-inflammatory products, alcohol management and recovery, radiation protection and recovery.
Top Sellers